How Volunteer Genealogy Improved my Research Skills, Strengthened My Family Relations, and Created New Tools
Gary Perlman, Webmaven for JGS-Montreal.org
1.

Volunteer Genealogy

I've done volunteer genealogy at a geriatric centre for a dozen residents and their families. The research goes in different directions for each person, according to their life stories, interests, and abilities, all of which can be amazing. I'll discuss how I gather information from them, what they generally like, and how their families get involved.

During the process, I improved my research skills. After a year of building family trees with many source documents, I decided to grow my own family tree. I researched the immigration stories of all my cousins' grandparents, bringing us all closer. I even developed some tools to make my research more productive, but with less effort, which I'll share with you.
2.

Bio

Gary Perlman grew up in Cote Saint-Luc, where he attended Wagar High School, across the street from the Maimonides Geriatric Centre, where he now does volunteer genealogy research for its residents. His ancestors all immigrated to Montreal and naturalized over a century ago. Gary left Montreal to go to university in the United States, and he lived there and worked in information technology for 30 years. In 2003, he moved back to Montreal with his wife and two sons. He continued to work on web-based search services until his retirement in 2013.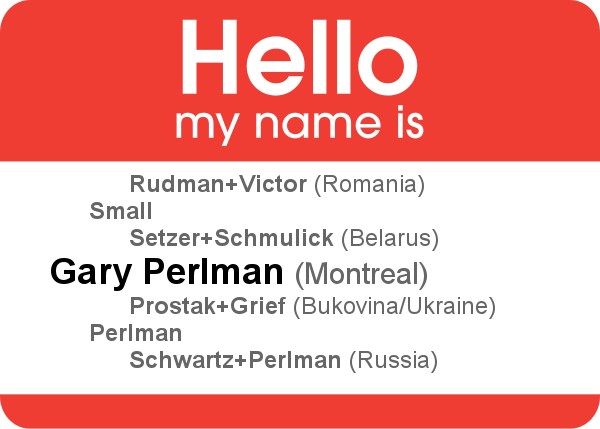 3.

Plan for the Talk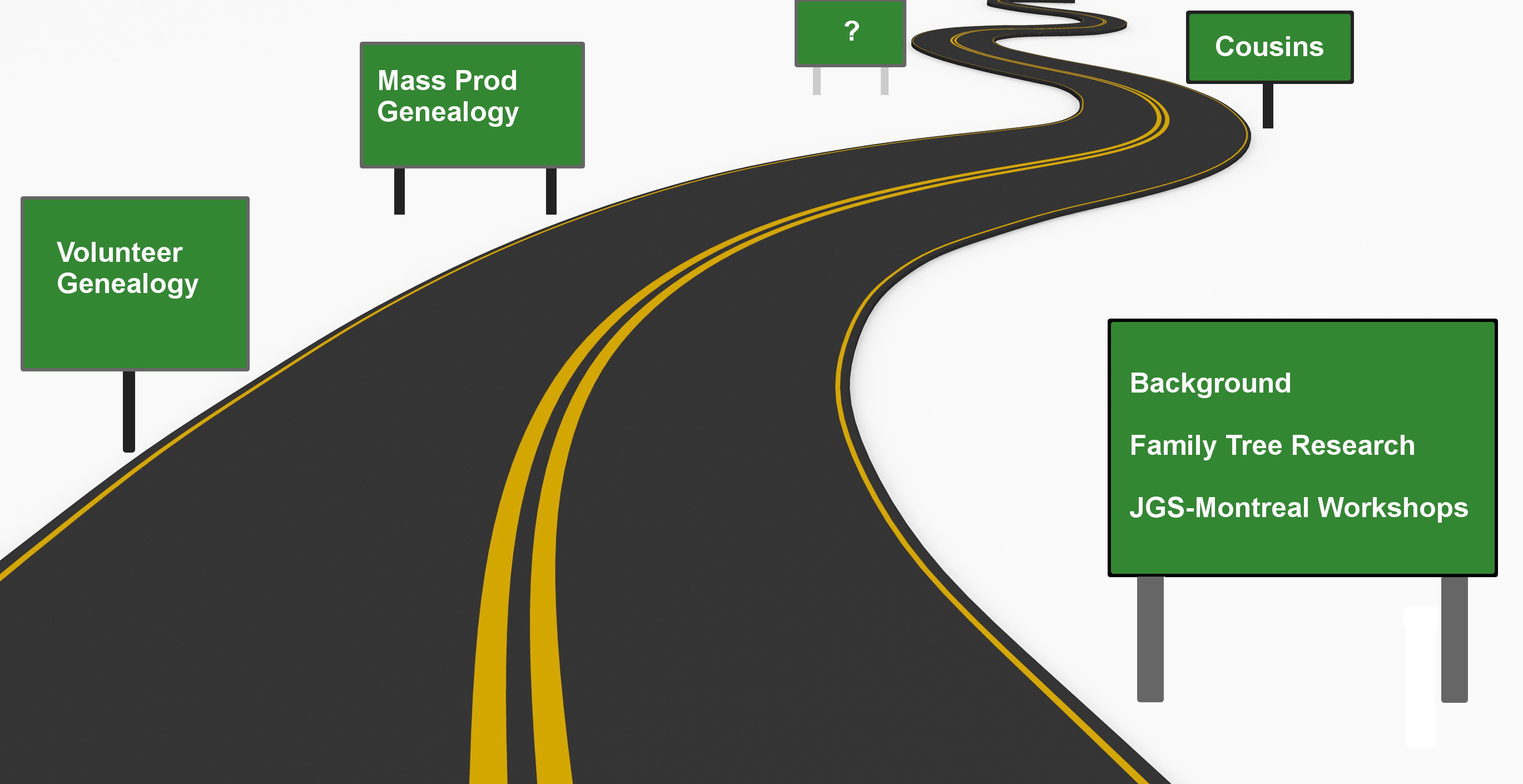 4.

My Family Tree Research
My ancestors immigrated over 100 years ago from Russia (Belarus, Ukraine) and Romania. All naturalized.
An afternoon with my grandmother
- preserved online for decades before use
Used MyHeritage family tree for years
- because it was free
- eventually subscribed to larger tree, some data
Like Ancestry.com research
- especially when free promotion
- had Canadian subscription, later World
Used Geni.com
- most likely to connect to family, so informally kept partial tree
JGS-Montreal Sunday Morning Family Tree Workshops

Learned about many more resources
I took notes, tried resources, found family records
I didn't do great job at organizing what I found
Still, I learned a nice set of "tricks"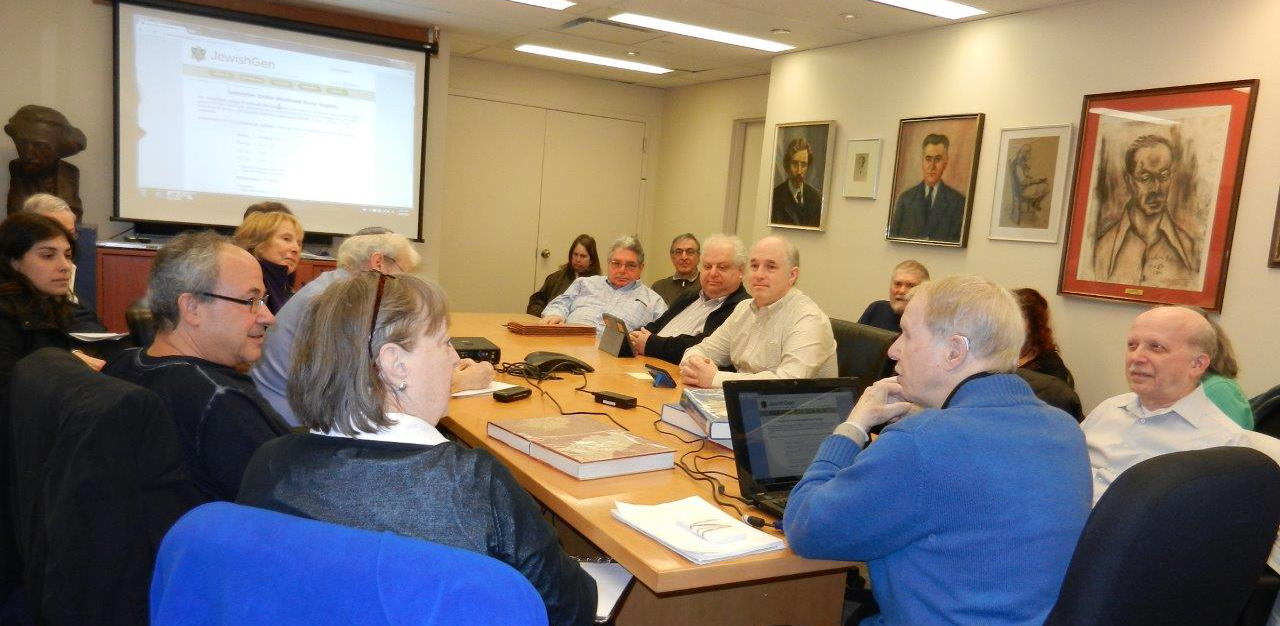 5.

Volunteer Genealogy Sessions
Start with names, dates, places
Meet 1 hour/week, 10+ hours research (per client)
Photograph gravestones, weather permitting
footstone inaccessible December - March
Store info at Geni.com (free!)
- Too much information to keep in folders
- I set up email and "pose" as client
Deliver pictures of graves, records, ...
Started in front of computer, but stopped
- hard to see, even accommodated
- unavailable printouts frustrating
- tedious to go through results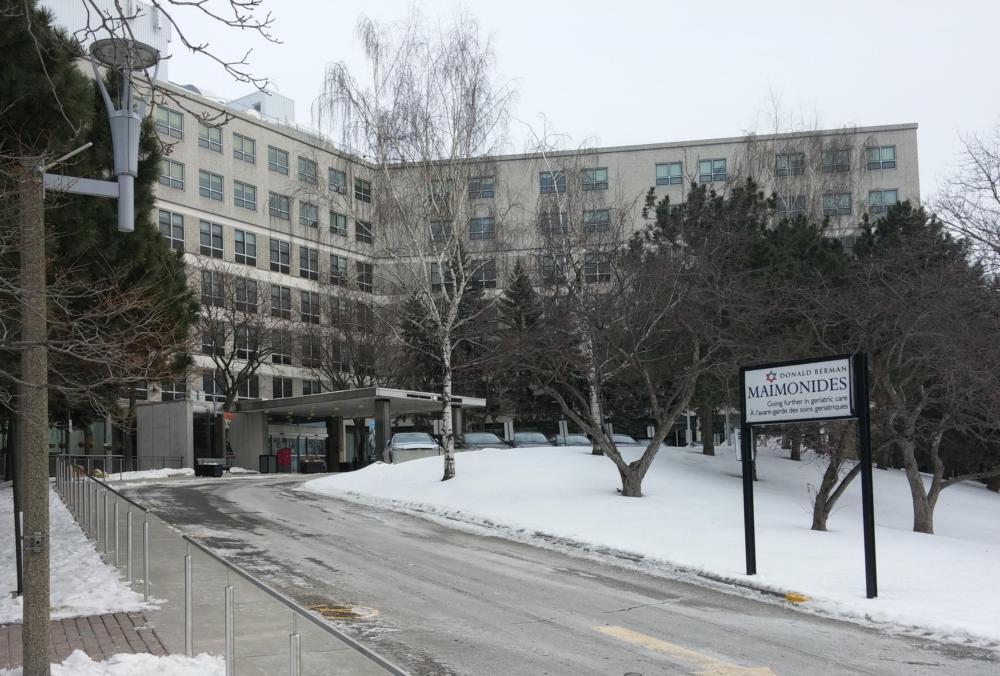 6.

Volunteer Genealogy Products
For privacy, examples are from my family
Two binders to hold what we find
- mine for work, theirs for delivery
Colour printing on nice paper
Spine with all the family names
- important for me to quickly recall family names
- difficult with two clients, but sometimes I work with four
7.

Family Tree Chart
Geni chart gives nice overview of heritage
- another good way to keep track of names
Photos in tree come later, if at all
- I never use gravestones or documents as photos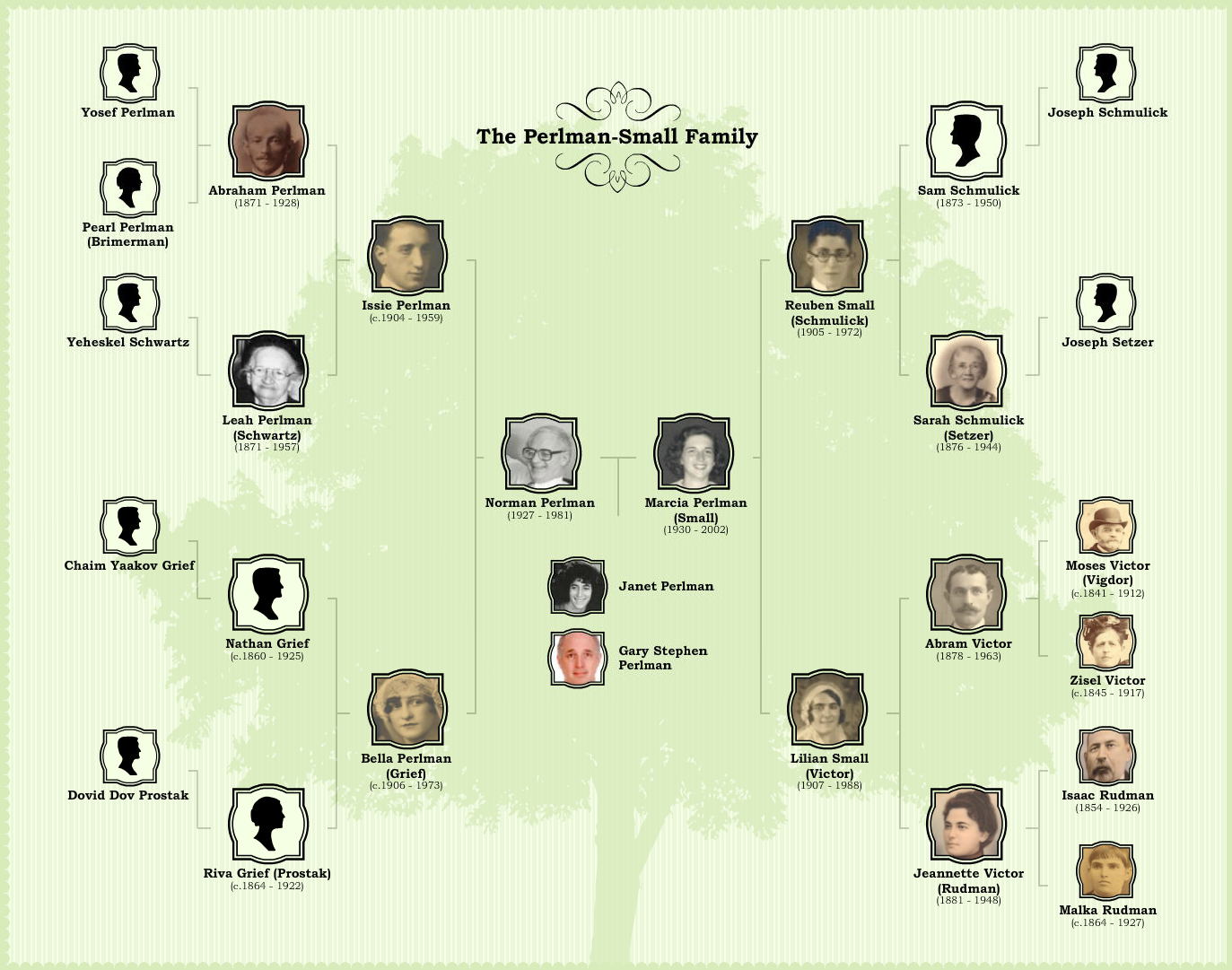 8.

Family Tree Chart - Annotated for Me
Easy for me to forget these details
Gravestone location, filled when photographed
Naturalizations requested, filled when processed
Dates - birth, marriage, death
Siblings - how many / names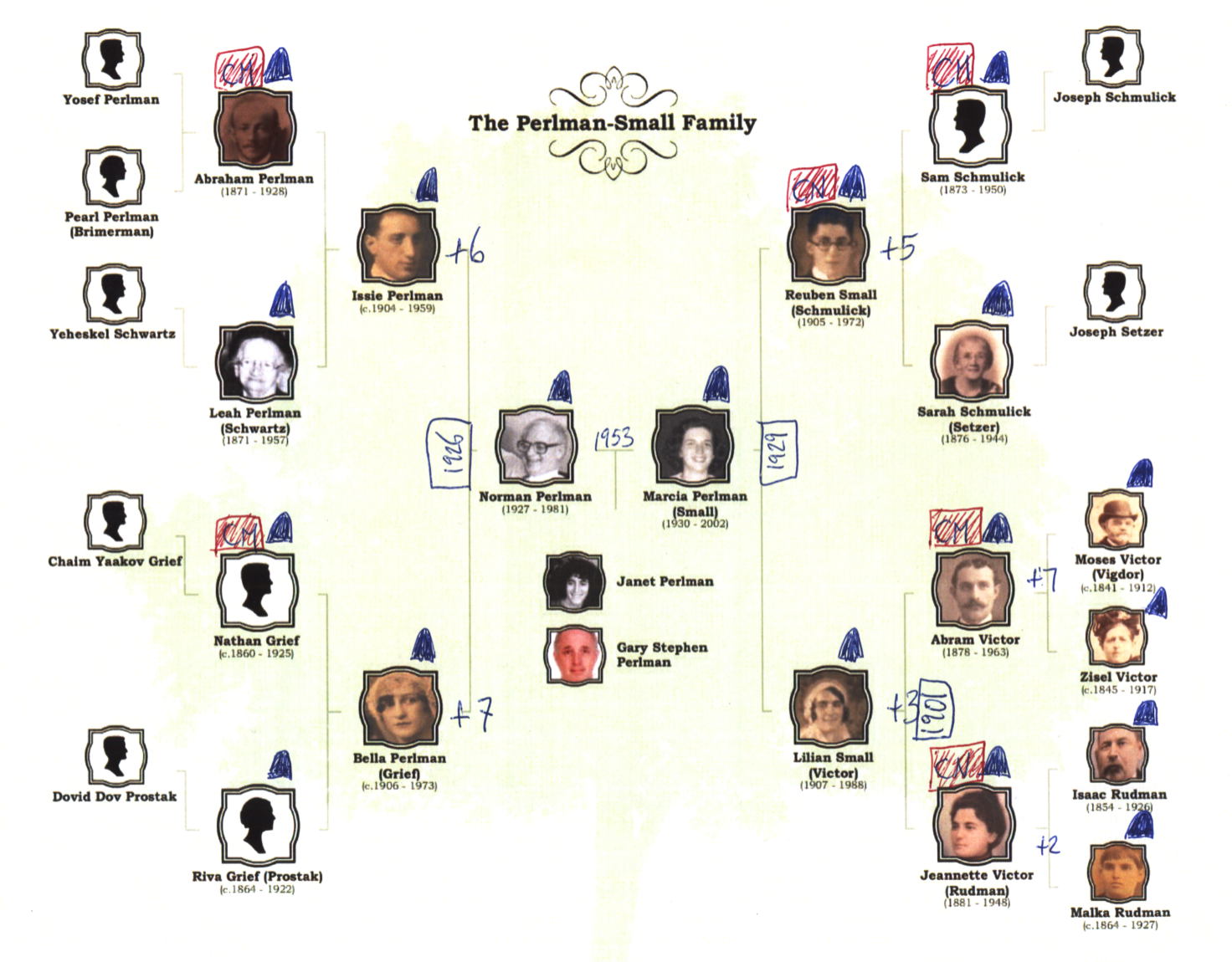 9.

Family Origin Google Map
Map of towns of origin on back of binder
- helps keep track of what is known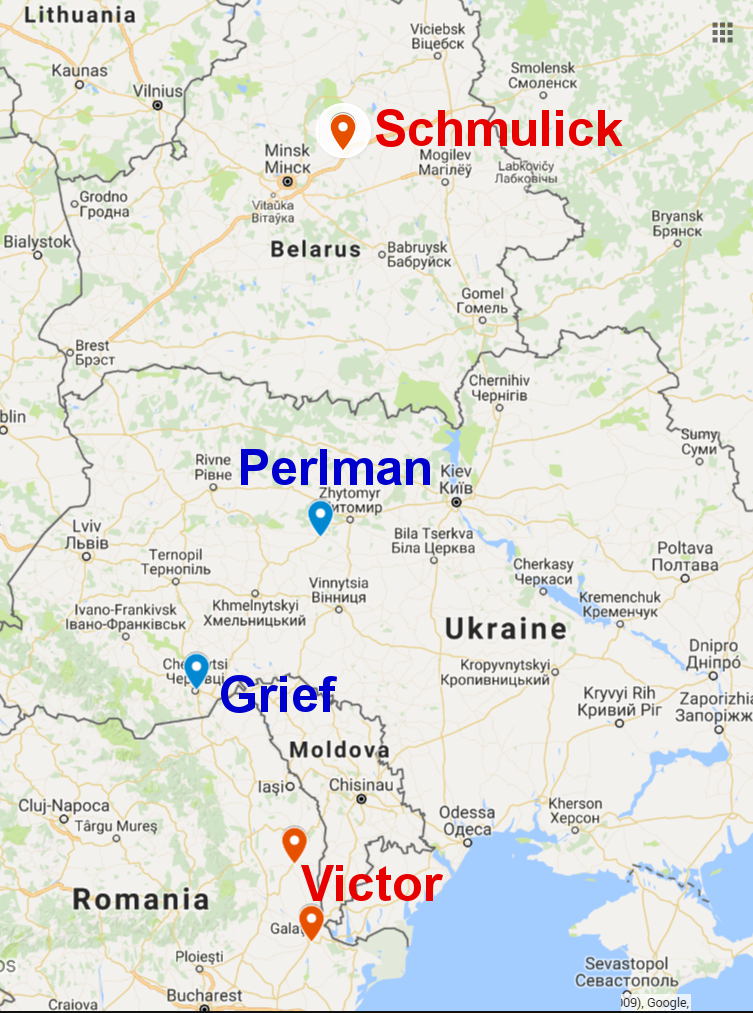 10.

Marriage Record - Drouin
My favourite document to find
- mini family tree on one page!
Maybe shows age and country of origin of parties
- occupation of groom
All four parents' birth names, living status
Signatures of parties
- useful to check against what Rabbi wrote
Sometimes interesting witnesses sign names
- fathers, brothers(-in-law)
Good resolution colour available for 1898-1912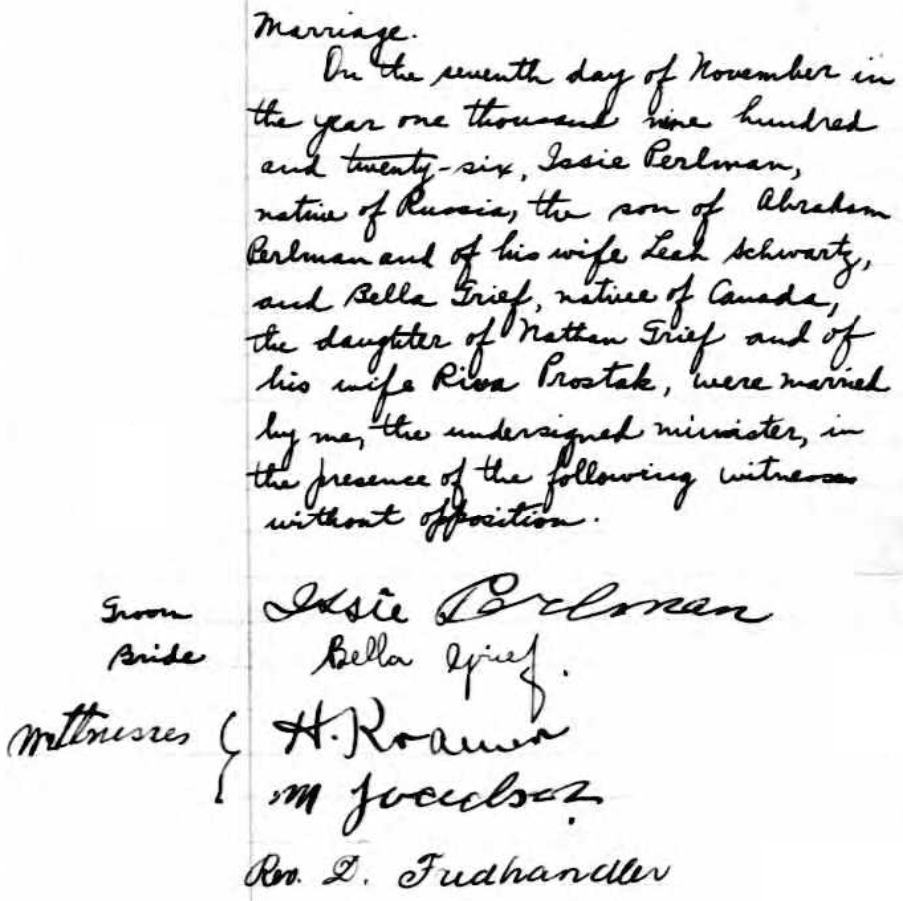 11.

Canadian Jewish Review Article
Lots of fabrics and flowers
- some clients make fun of them
But lots of names
- many relatives
- out-of-town guests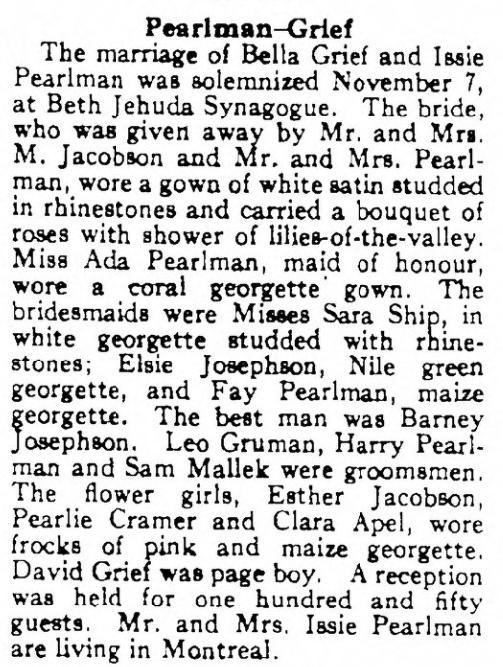 12.

Timelines with Documents at Geni.com
Geni.com good at showing photos, fair at showing documents
Documents, not photos, can be used as sources at Geni.com
Gravestones are large, heavy documents
- maybe people get confused because they have a photo of a document
I use a trick to show availability of source document:
- Describe With information available on document (e.g., Hebrew name on gravestone)

13.

Geni.com Printed Family Tree
Delivered rolled up
Two to Ten Pages, cut & pasted (taped)
Sometimes delivered with magnifying glass
By far, the most popular deliverable

14.

Volunteer Genealogy Lessons Learned
No agenda - but some preferences
- Want to capture clients' unique knowledge
Client frailties (hearing, vision, coordination, memory)
Everything clients say is valuable
Never contradict (sometimes difficult)
- Your aunt was 40 years alder than your father, her brother
Clients get verklempt
- "I never knew that name"
- "That's his signature!"
Recent facts hard to recall, distant past easier
- many can't recall names of grandchildren, get upset
- immediate answers about addresses from 70 years ago
Bury some details - some found, some spoken
- "She had a beautiful singing voice" - added to profile
- "What a gonnif!" - not added to profile
I am not there to judge them or their family
- at most, I will agree
Printed documents
- print with summary information
Client assignments
- get birth and marriage dates, email addresses
Family involvement - variable
- some come to interviews
- some call me at home
- most are passive
Keeping track is hard but crucial
- sometimes working in 5+ family trees at once
Spend pocket change on clients
- I bear cost of subscriptions, colour printing
- largest cost is binder and naturalization file requests
15.

Volunteer Genealogy Highlights
1500+ relatives found on Geni.com in a week, back to mid 1700s
- client appeared 3 times in tree, as her own mother!
Scanned wedding album, tagged every person
- family with be thankful someday
- example of capturing client unique knowledge
- printed family tree has many pictures
Phone calls to Italy; email to Israel
Relatives phone me, 3rd/4th cousins help
- client was not interested in distant cousins
From "very small family" to "kinda small family"
- finished research with 647 people in tree; 134 blood relatives
- we found enough family to change her opinion
Connections to my family, friends
Visits to the lunchroom
- where everyone knows your name
16.

Volunteer Genealogy Amusements
"Who ARE you? Reveal yourself!"
- from: "I know my mother is not doing this!"
- to: "Words cannot express my gratitude!"
"My parents owned a candy shop"
- was a restaurant in Lovell's, maybe with candy at the cash
"My uncle was named Peter, but we called him Passie."
- it was Paul, Jewish name Pesach (Passie)
- nothing a client says is completely wrong
"I'm not interested in his side!"
- but your daughters are interested
- "How do you know that?"
- they wrote to you
And you have a brother named Zurach?
- he had one brother, with Jewish name Zurach
- I thought that there were two brothers
Do you have any other names?
- different nickname for every family member, business name
Your aunt was forty years older than your father
- she might have been your father's aunt
- but never contradict, so we called he his aunt
Widows in Lovell's Directory
- listed as widow, but husband is alive, so separated
Complaints about large printed family trees
- so large, and the print is so small
17.

Harder Volunteer Genealogy Lessons
Cancellations, without notice
- only allowed 2 or 3 times, 4 tops
Stopped due to child's privacy concerns
- after 7 naturalization files requested (delivered on CD)
Great nephew offended by email contact instead of phone
- apologized profusely, took full responsibility
Client's ex concerned about me contacting son
- apologized profusely, took full responsibility
Half of couple not interested
- did what I could
Stories, labour-intensive, not of interest, discontinued
- traced parents' immigration, lives
Printing naturalization files, only if easy to read
- provide an extraction of the text
18.

Volunteer Genealogy Stats
12 Clients
Ages 49-97 (average 85)
All but one Jewish
Three Holocaust-related
One married couple
- more than twice the effort of one person
Two stopped early, others keep going
- new information comes online
Two passed away, 4 shivas, once pallbearer
Family Trees:
- 4576 people (385/client)
- 2016 blood relatives (168/client)
- 104 ancestors (8.6/client)
- 525 documents (44/client)
19.

Volunteer Genealogy Workflow
Start with names, parents names, dates and places
Find documents based on dates and places
Find proof of death for access to records
- many records only accessible 20 years after death
- gravestones are good proof and good source of information
- JOWBR records are also acceptable
- obts are acceptable and great source of information
Request naturalization files ASAP
- they take a month to arrive via email
Then work on filling in details
20.

Genealogy Dashboard
I started volunteer genealogy with page of resources with links
I used a few of my own search forms (e.g., Mobile JOWBR)
- circumvent slow pages leading to form
- overcome limitations of forms (e.g., inability to edit query)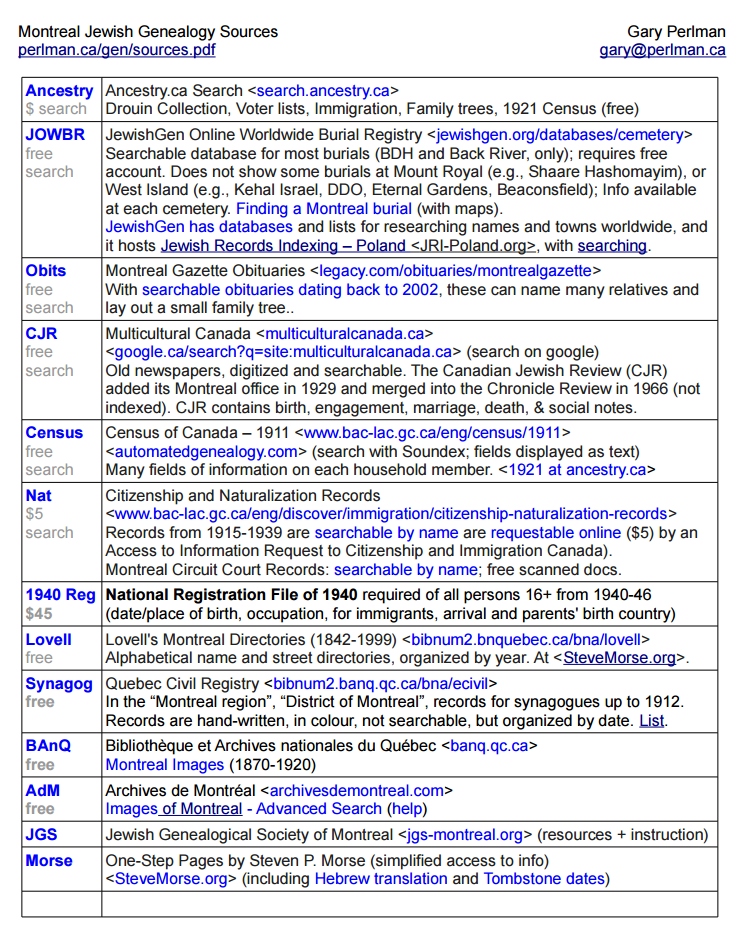 21.

Startup Genealogy Dashboard
Search syntax described in

?

help notes
More info on resources in tooltips / print preview
Options to hide help, manage windows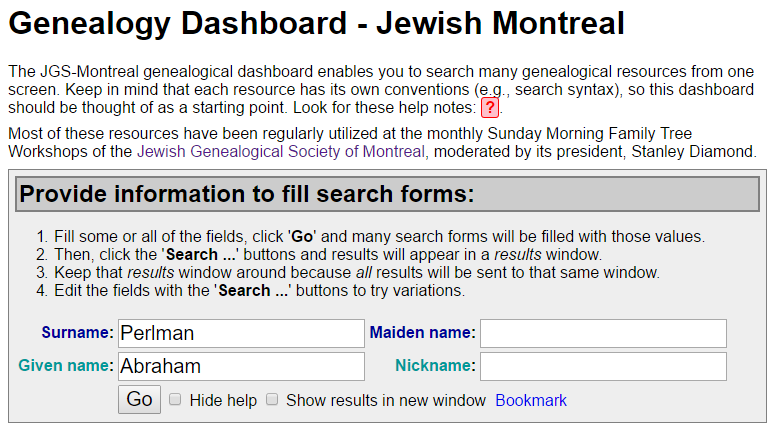 22.

Genealogy Dashboard - Filled, Census
Main Idea: Enter Name Once, Search Many Databases
Links to sections of Dashboard (Census, ..., Burial, ...)
Each resource has link to website, cost, geographical limits, date range, ...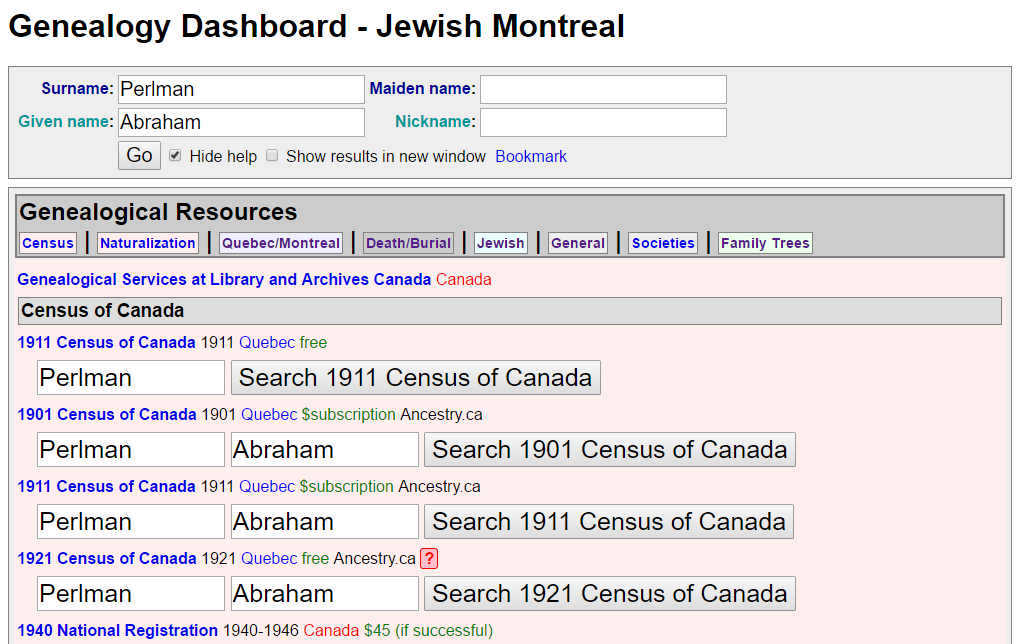 23.

Genealogy Dashboard - Naturalization
Two main sources of Canadian naturalization files

24.

Genealogy Dashboard - Quebec & Montreal

25.

Genealogy Dashboard - Death & Burial
3 sources of obituaries (note date ranges)
5½ sources of burials
- JewishData.com subscription (with photos) / free (without)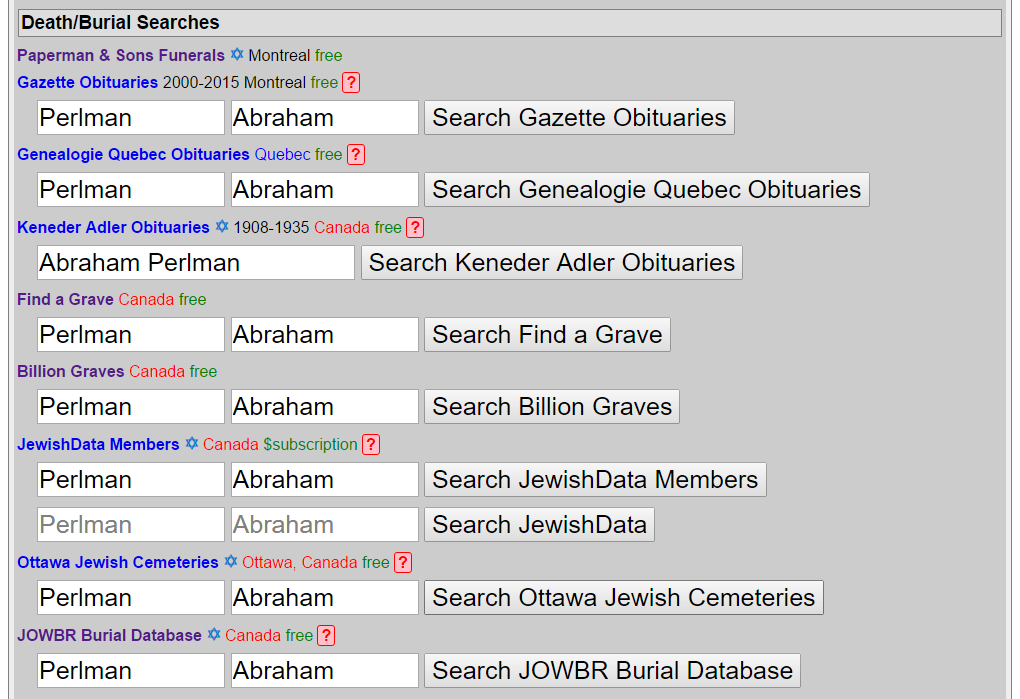 26.

Genealogy Dashboard - Jewish
NEW

indicator
- temporary search during transition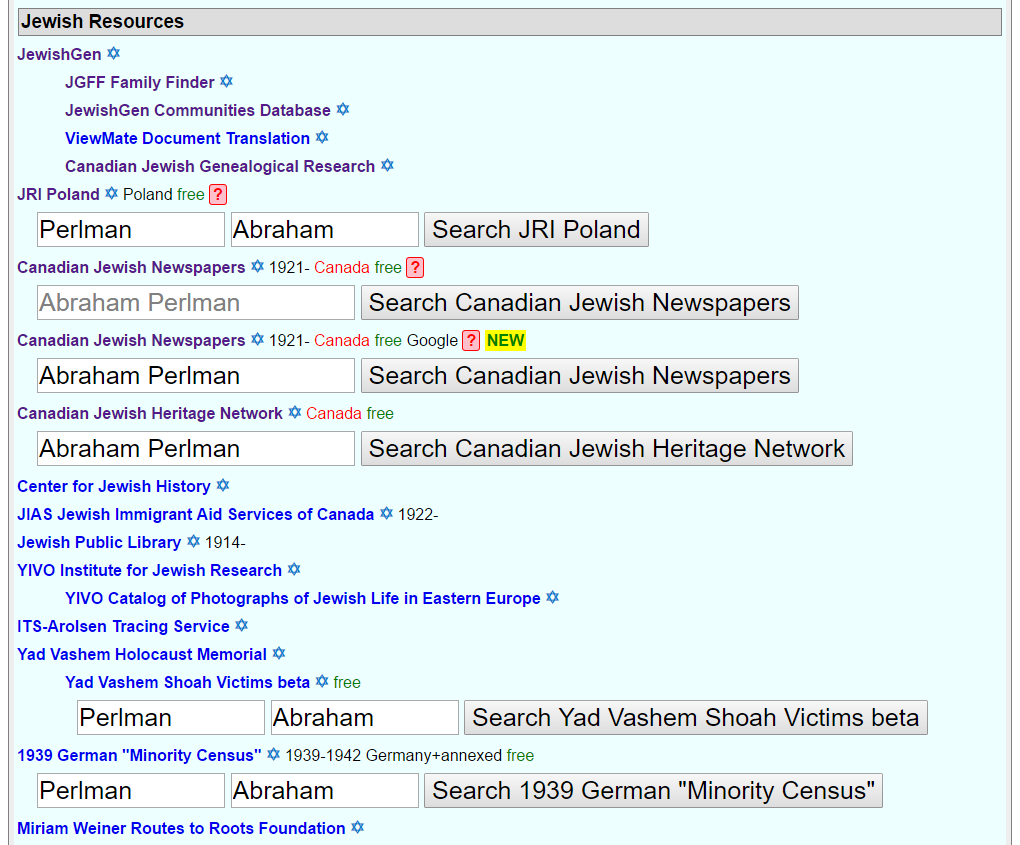 27.

Genealogy Dashboard - General
Google Newspapers includes Montreal Gazette (1878-2006)
Facebook is a surprisingly useful resource
Phone directories are often useful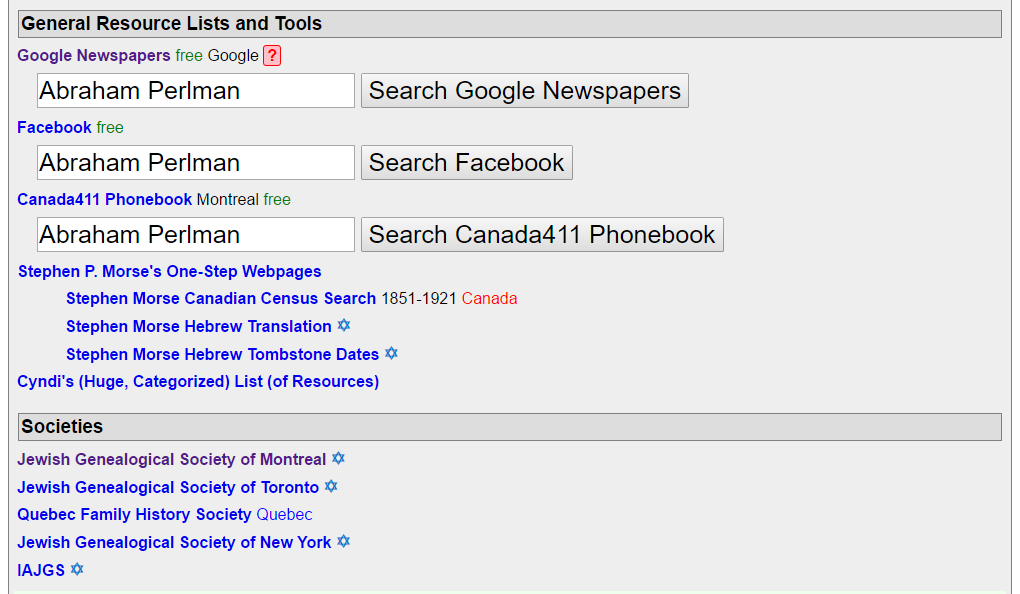 28.

Genealogy Dashboard - Family Trees
Don't duplicate research that someone else has done
Tree manager might be a relative
Searches are done through Google, limited to website

29.

Genealogy Dashboard - Complete
73 Resources (unless more have been added)
Viewed sideways for your convenience

30.

Genealogy Dashboard - Example
31.

Dashboard Example - Montreal Circuit Court Naturalizations

32.

Dashboard Example - Nothing Found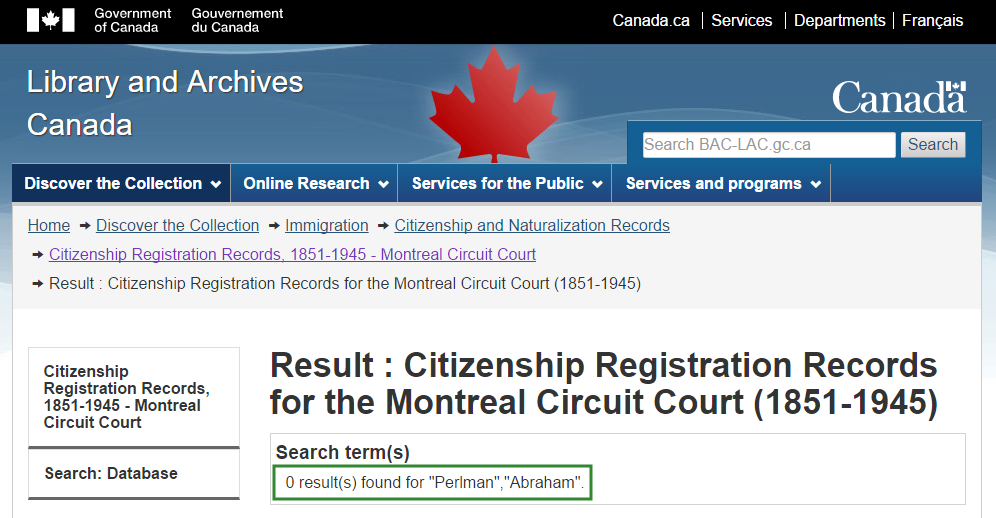 33.

Dashboard Example - Read the Pop-up Help, Truncate Search

34.

Dashboard Example - Eureka!? Cross-check with 1911 Census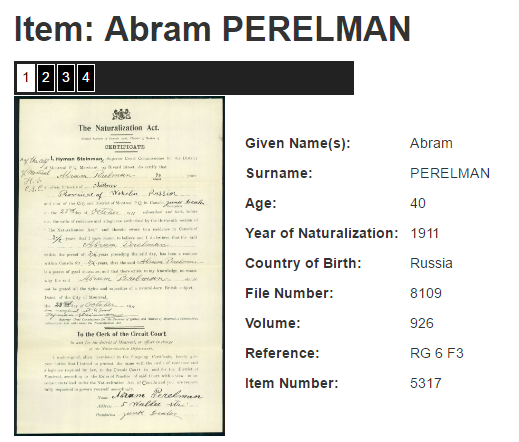 35.

Dashboard Example - The Whole Mishpocha at 5 Vallee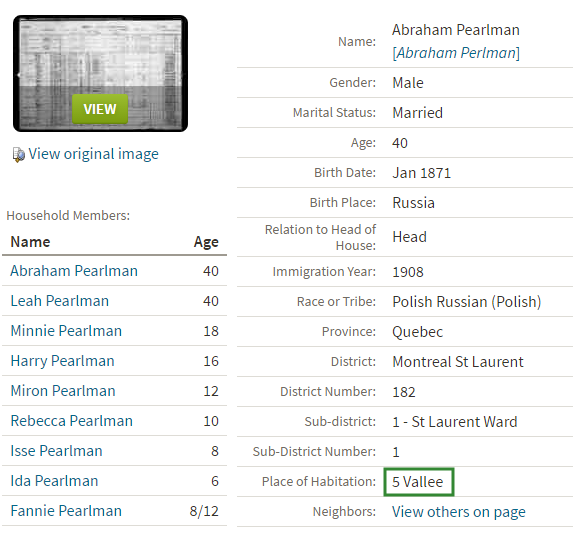 36.

Dashboard Example - What was the address for Abram Perelman?

37.

My Cousins' Genealogy
My clients had better sources than my family, so...
I gathered many docs (781), connected with cousins
Date/Place of Birth/Immigration/Naturalization/Marriage/Death
Created Family Groups with stories
38.

Family Group with Immigration Story
Note: over a dozen family groups
Checklist of sourced info on birth, marriage, naturalization, death
Many spellings of towns of origin
- correct answer depends on date, locale, language
Two spellings of family name: Schmulick/Shmulik
- correct one is: either/neither → Yiddish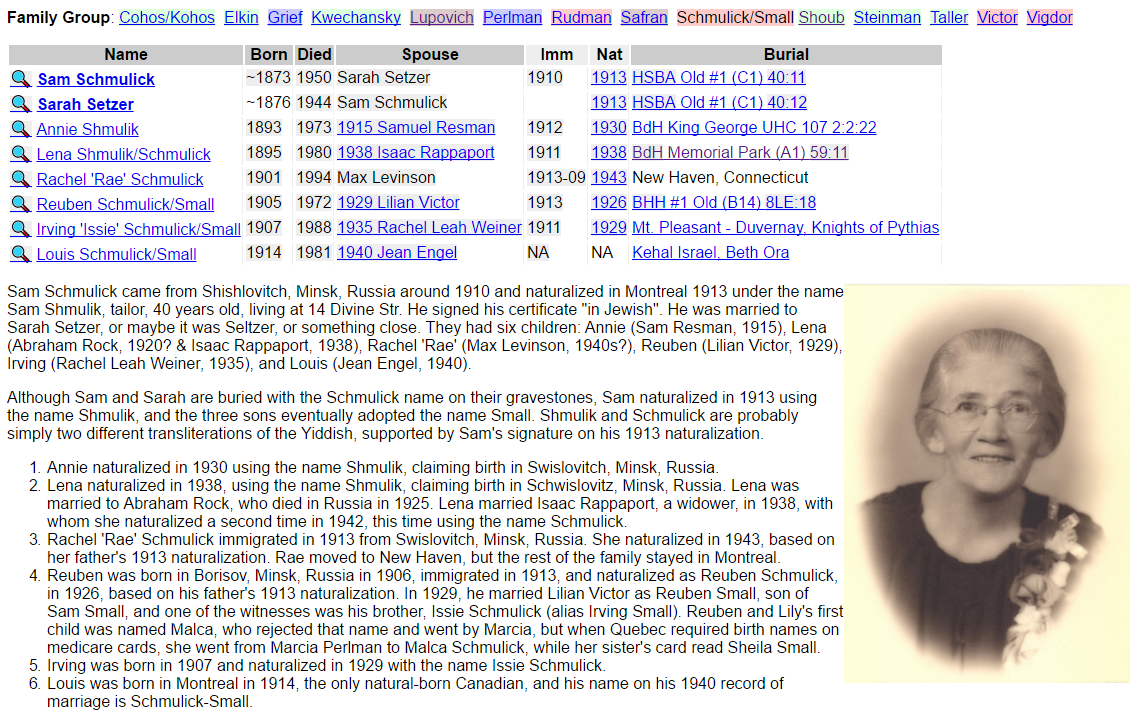 39.

Schmulick or Shmulik
Schmulick is on Sam's gravestone
Children naturalized as either
One daughter naturalized as Shmulik, then Schmulick
Sam naturalized as Shmulik, so check signature

40.

Next Generation Tools - Dashboard for Group
Genealogy Dashboard = research one person
Simple file of names and other info (Geni, Obit, ...)
Generates page of links into Genealogy Dashboard
- Bulk Genealogy™
Helps track what has been / needs to be researched
- too visually busy when tracking a lt of information, so...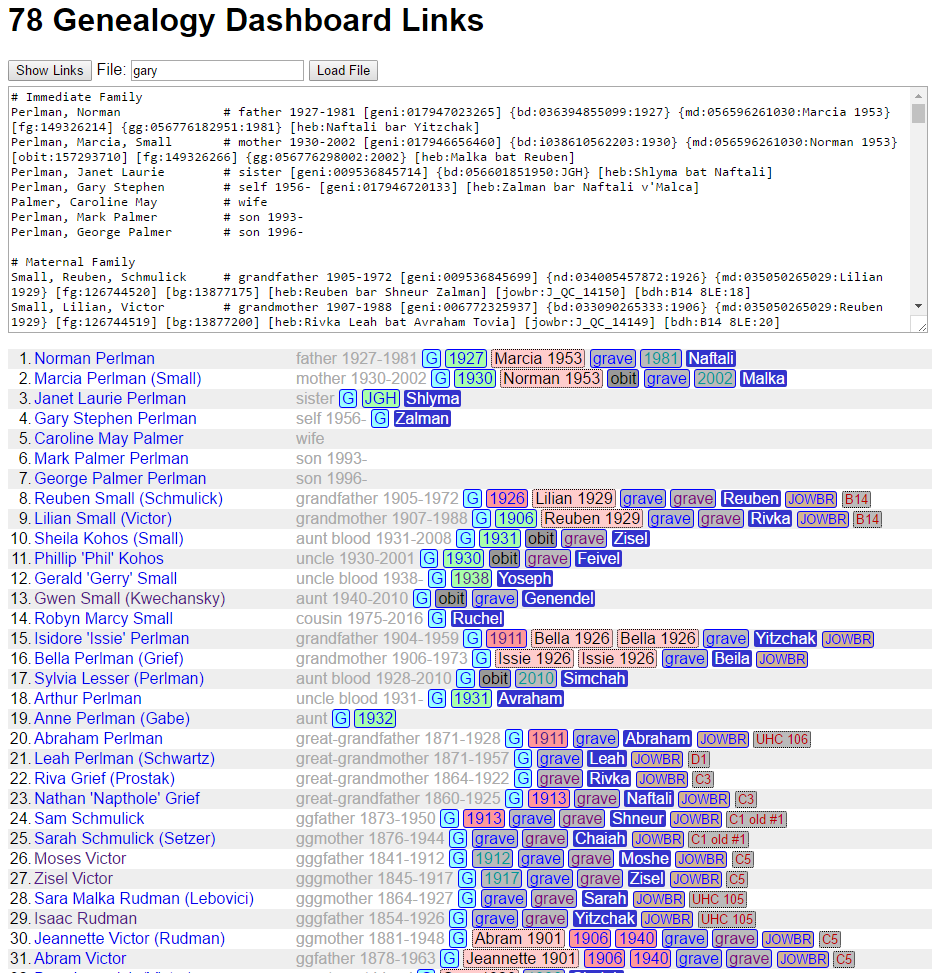 41.

Next Generation Tools - Tabular Checklist
Names are indented according to generation
Tabular display shows what is missing
Similar to a family group display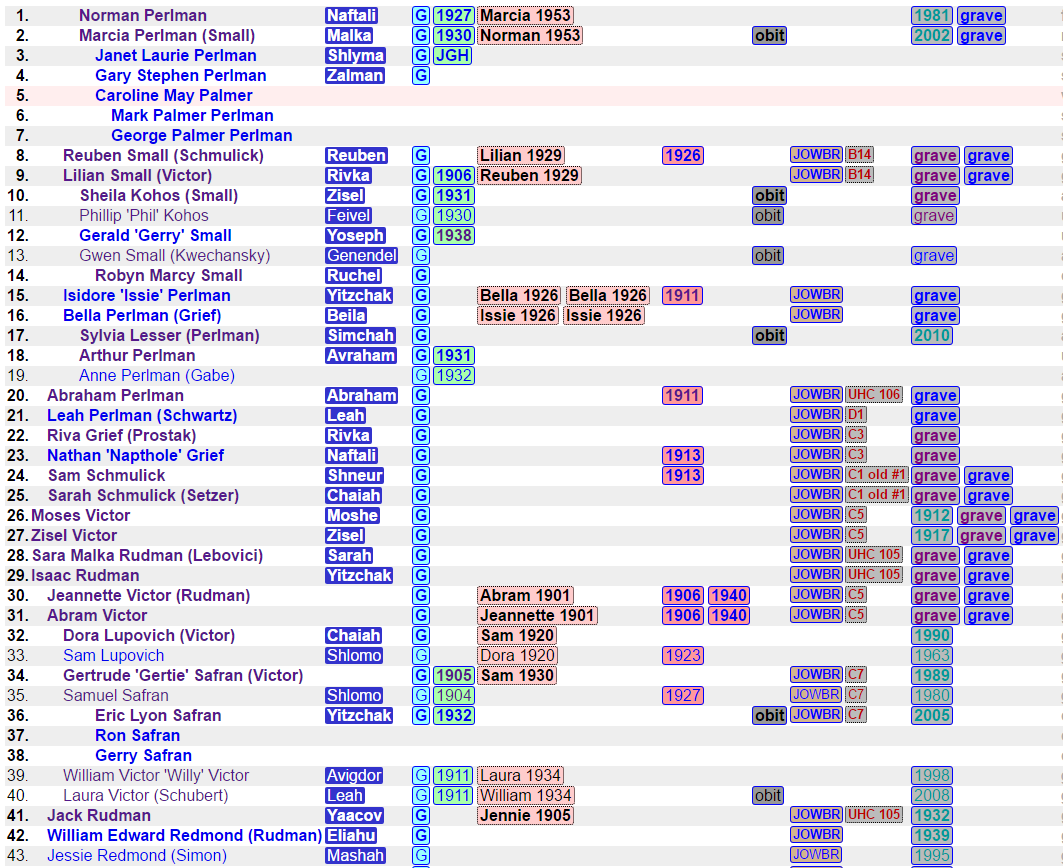 42.

A Story of Synergy in Cote Saint-Luc, QC
I grew up in Cote Saint-Luc, went to Wagar High School
Maimonides Geriatric Centre was across the street from Wagar
2004 Wagar High School Reunion
Beth Zion Congregation cemetery
Wagar High School Yearbooks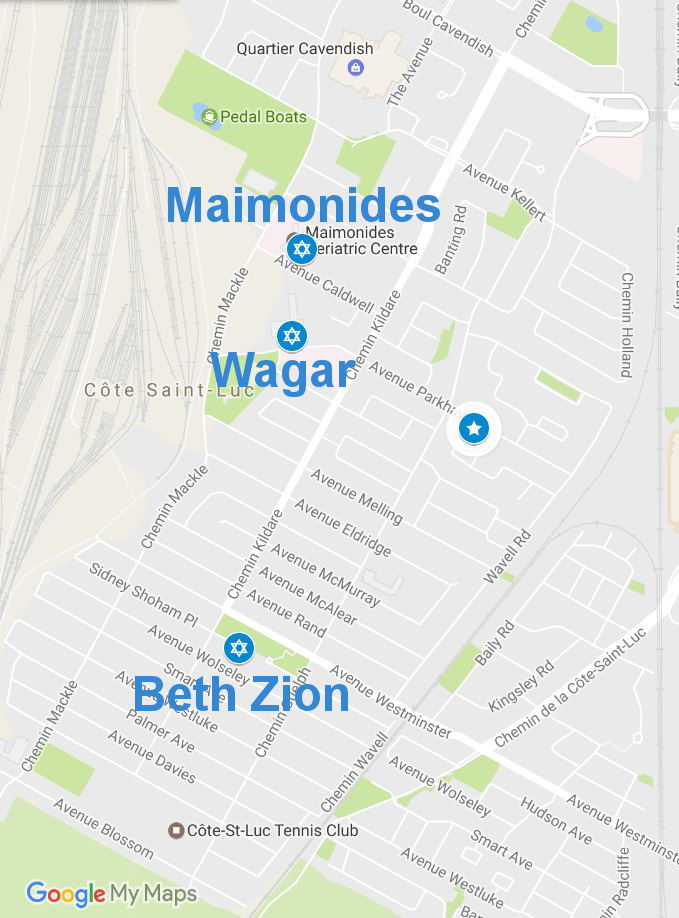 43.

Synergy - Wagar Reunion in 2004
Grew up in Cote Saint-Luc, went to Wagar
Left Quebec to avoid CEGEP
Lived in the United States for 30 years
Moved back in time for Reunion
Created a Website/CD-ROM
Scanned some yearbooks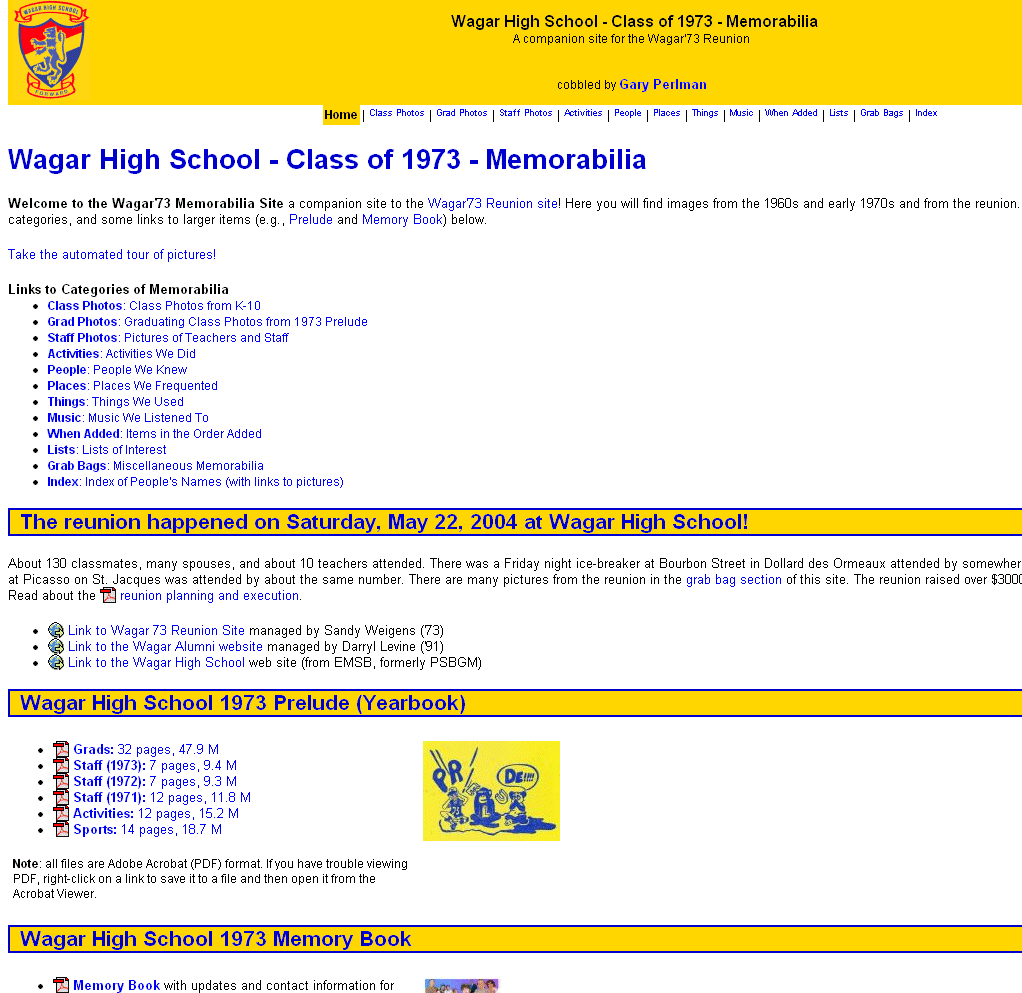 44.

Synergy - Beth Zion Congregation Cemetery
Located in the middle of Cote Saint-Luc
Burials in Eternal Gardens, Beaconsfield, QC
Classmates' families, even classmates
Some volunteer genealogy clients' families
Many Holocaust survivors
Photographed and indexed in fall 2016 with Merle Kastner
- drove Merle a little crazy because I wanted everything perfect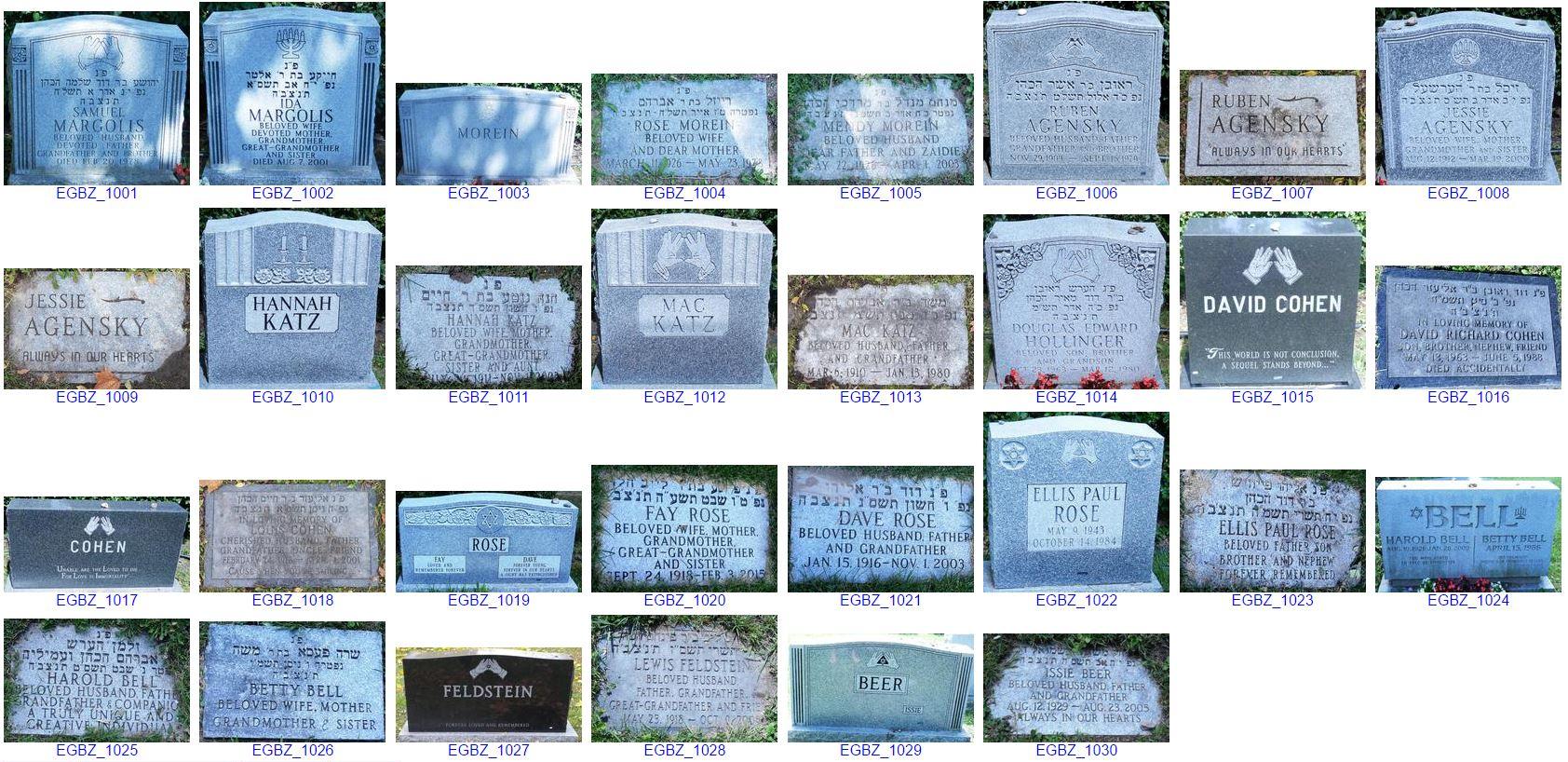 45.

Synergy - Wagar High School Yearbooks
Wagar High School Facebook Group - 1611 members
Had scanned some yearbooks for reunion; asked for more
Someone lent me more, including 1st 4 years (1965, 66, 67, 68)
Found a stash in the former Wagar library - scanned
Almost all scanned (4492 pages, 8587 names)
Indexed for display and search, PDFs indexed by Google
Some Maimonides clients' relatives attended Wagar
21 of my cousins or their spouses went to Wagar
My snowbird 2nd cousin taught at Wagar for 30 years, advised on yearbooks, has a set
More About Wagar.ca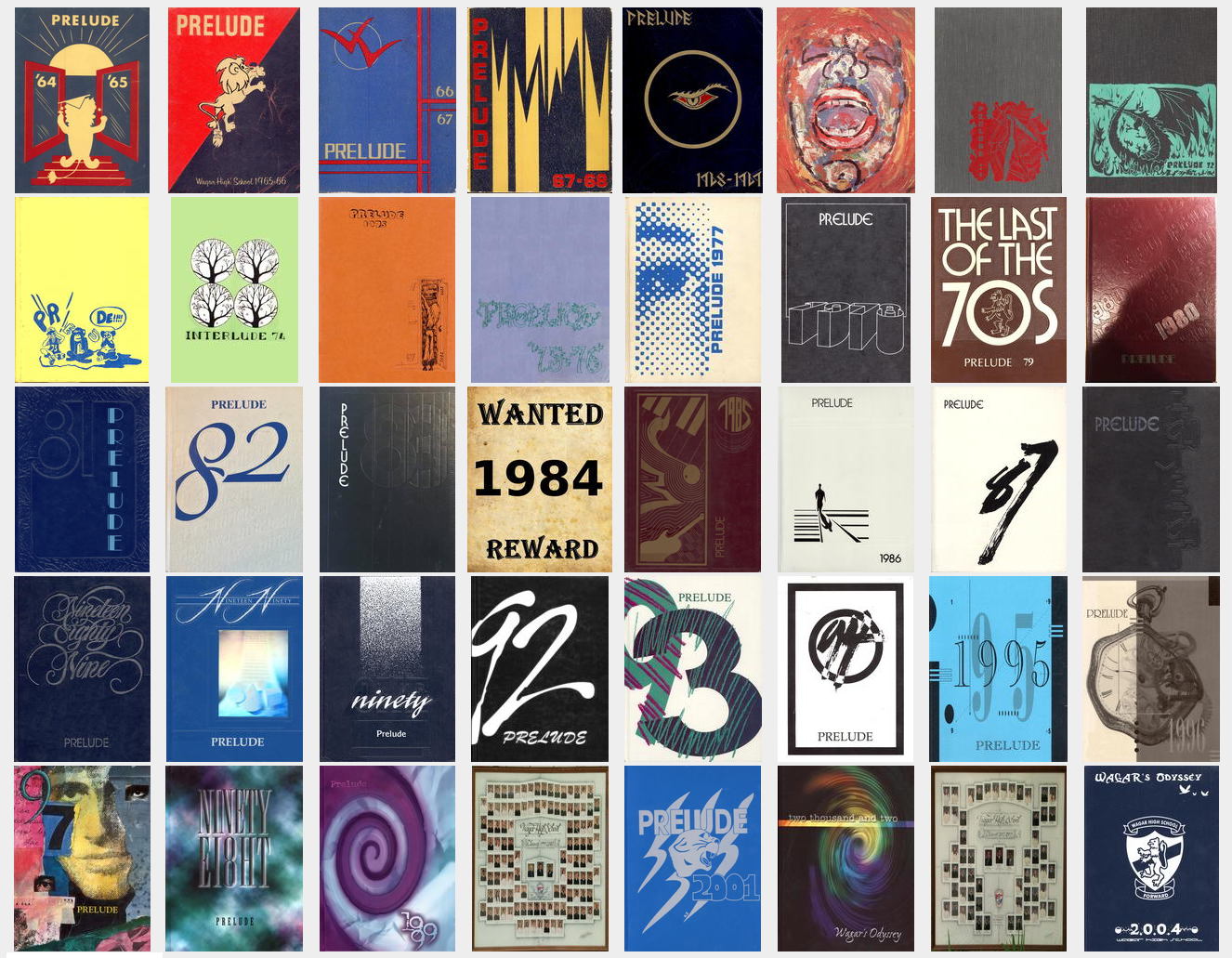 46.

Synergy - Relatives at Wagar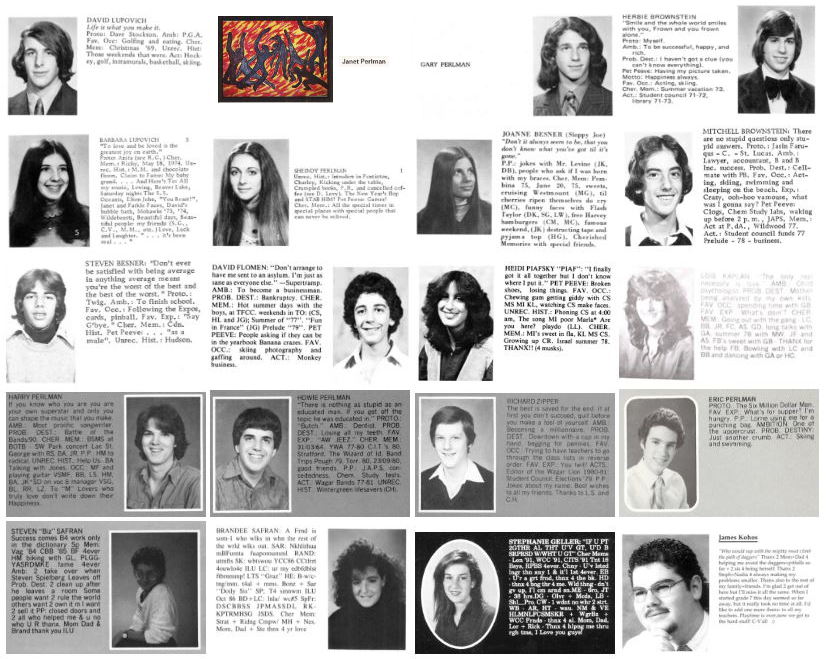 .

Acknowledgements More infrormation:

Thanks to: